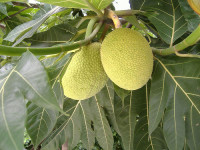 Breadfruit is as much a staple as bread itself.
Breadfruit is a species of exotic fruit believed to be native to New Guinea and other nearby Pacific islands; and the fruit has yellow to light green skin when ripe, with a texture that is generally rough.
Numerous varieties of breadfruit have been developed, and the fruit grows on a tree with the scientific name Artocarpus altilis, from the family Moraceae, the family of figs and mulberries.
Depending on the variety, breadfruit is generally an oblong, round or ovoid shape, and can be 10 to 40 centimetres (4 to 16 inches) in length, between 7.5 to 33 cm (3 to 13 inches) in diameter, and can range in weight between 250 grams to 6 kilograms (0.5 to 13 pounds).
The texture and smell of breadfruit when cooked, is suggestive of bread, hence the fruit's common name.
Breadfruit is typically cooked, in the form of roasting, boiling, baking, frying and the like, and is often mashed, or made into chips; or processed into flour; though some varieties of the fruit are eaten raw or used in dessert dishes or baked goods; and the seeds are also used as a food.

The tree of breadfruit can bear large quantities of fruit each season, generally from 50 to 200 individual fruits, which is somewhat determined by growing conditions and variety.
Breadfruit is found widespread in tropical areas today, spreading from its native home across the Pacific by islanders, and to the Caribbean by conquerors.
The flesh of breadfruit is usually a white to yellow colour, with a flavour that is much like that of a potato, and it is quite starchy and somewhat bland, though when very ripe, it is typically soft and sweet.
Breadfruit is very high in potassium and vitamin C, is a good source of carbohydrates and fibre, and has many other vitamins and minerals.
Breadfruit was once used to inexpensively feed slaves, and it has been cultivated as a staple food due to its versatility, significant energy content, and large yield capacity.
Amazon: