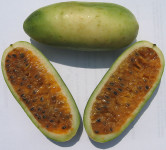 Banana passionfruit is the perfect fruit for a passionate fan.
Banana passionfruit are a variety of tropical fruit native to South America.
'Banana passionfruit' is also called 'curuba', 'tasco', 'tumbo', 'bananadilla' and 'banana pōka'.
There are two species of banana passionfruit, both very similar in appearance, and they have the scientific name Passiflora tarminiana and Passiflora tripartita var. mollissima, and they are from the family Passifloraceae, the family of passionfruit and other flowering plants.
Banana passionfruit are of a rounded cylindrical or somewhat ovoid shape, and are 5 to 14 centimetres (2 to 5.5 inches) in length.
Banana passionfruit has a light or whitish yellow to orange skin colour when ripe, and is a green colour when unripe, while the flesh is a translucent orange that surrounds numerous black edible seeds.

The vines of banana passionfruit typically produce 150 to 300 individuals fruits a year.
Banana passionfruit can be eaten fresh or added to desserts such as ice cream and fruit salads; or used as a flavouring, especially in beverages; much like other species of passionfruit.
In countries such as Australia, New Zealand, Papua New Guinea and Hawaii, banana passionfruit is considered an invasive species, as it grows prolifically and chokes out native plant species.
The flavour of banana passionfruit is typically sweet and tart, comparable to other passionfruit; and the fruit is high in vitamin C and fibre.
The vine of banana fruits can reach a length of roughly 6 to 7 metres (20 to 23 feet), and they often use tall trees as a support.
Amazon: