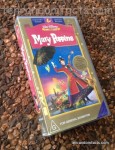 "It's Supercalifragilisticexpialidocious," says Mary Poppins.
Mary Poppins is often rated among the best movies ever produced, and is a musical film with a fantasy based theme, set in 1910, in London.
Mary Poppins was made by the Walt Disney film company, directed by Robert Stevenson, and the screenplay was written by Bill Walsh and Don DaGradi.
Mary Poppins was based mainly on the first of eight books in the series of the same title, authored by Australian born Pamela Lyndon Travers (P.L. Travers, originally Helen Lyndon Goff), who did not like, and regretted, the overall film production.
Mary Poppins is based on the character of the same name, who is a supernatural nanny, performed by Julie Andrews, who won an Academy Award for the best actress as Poppins.
Mary Poppins was chosen to be preserved by Library of Congress for the United States National Film Registry in 2013.

 Mary Poppins

Image courtesy of
Disney
Mary Poppins was nominated for thirteen Academy Awards, 

winning five of them, 

the most ever in Walt Disney history.
The Mary Poppins producers took twenty-three years to obtain production rights from the author of the books, Pamela Travers, 

to create the movie, 

due to her belief that a film would detract from her books.
The Mary Poppins film runs for approximately 2 hours and 20 minutes, and was first released on 27 August, 1964.
Mary Poppins had over 30 music pieces written by the Sherman brothers, Robert B Sherman and Richard M Sherman, for the production, although only 17 were used.
Mary Poppins had the top profits of 1965, with a $28.5 million net profit, a budget of 6 million, and to date, a worldwide gross of over $146 million.
Bibliography:
Mary Poppins (Film), 2013, Wikipedia, http://en.wikipedia.org/wiki/Mary_Poppins_(film)
Pohn K, The History of Mary Poppins, 2007, Cosmic Play, http://www.cosmicplay.net/Kaleid/Mary/scenebehind1.html