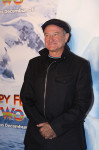 "You're only given one little spark of madness. You mustn't lose it" – Robin Williams
Robin Williams was a prominent actor, comedian, screenwriter and film producer, that started acting in the early 1970s, continuing on until his death in 2014, and a significant component of his work was unscripted and improvised.
Robin McLaurin Williams, or 'Robin Williams' as he was known, was born in Chicago in the United States state of Illinois, on 21 July, 1951, and he was the great, great grandson of governor Anselm J McLaurin from Mississippi.
Robin Williams was nominated for and received numerous awards during his lifetime, gaining two Emmys, five Grammys, four Golden Globes, an Oscar for Best Supporting Actor in the film Good Will Hunting, and the Golden Globe Cecil B DeMille Award for 'outstanding contributions to the world of entertainment'.
Robin Williams died on 11 August, 2014, in California's Marin County, in the United States, and despite being a well-loved actor, it is believed he hung himself after suffering from significant depression.
Robin Williams attended New York's Juilliard School and became successfully popular as an alien in 1978 on Happy Days, a television show, that launched his acting career and led to his leading role in the television series Mork and Mindy that ran from 1978 to 1982.

Robin Williams has been featured in 80 films, including Popeye (1980), Good Morning, Vietnam (1987), Dead Poet's Society (1989), Aladdin (1992), Mrs. Doubtfire (1993), Night at the Museum (2006) and Happy Feet (2006), and also made numerous television appearances.
In 1993, Robin Williams had a dispute with The Walt Disney Company, due to the belief that the company broke their agreement of the use of his character, Genie in the marketing of the Aladdin film, in 1992.
From the 1970s to 1980s, Robin Williams was addicted to drugs and alcohol, and after years of self-restraint, he resumed drinking alcohol in 2003, although later he attended rehabilitation to overcome his addiction.
Robin Williams was married to Valerie Velardi from 1978 to 1988, Marsha Garces from 1989 to 2008 and Susan Schneider from 2011 until his death in 2014, and he had three children named Zachary, Zelda and Cody, born in the years of 1983, 1989 and 1991, respectively.
Robin Williams enjoyed playing electronic games and was an avid cyclist and enthusiast, and in 2003 is said to have owned more than 50 bicycles.
Bibliography:
Robin Williams, 2014, Bio, http://www.biography.com/people/robin-williams-9532797
Robin Williams, 2014, Wikipedia, http://en.wikipedia.org/wiki/Robin_Williams
Amazon: