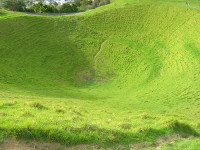 Maungawhau cannot stop the grass from growing green.
Maungawhau is a dormant volcano found in the city of Auckland, New Zealand and it is a cinder cone with a deep crater.
'Maungawhau' is officially called 'Maungawhau-Mt Eden', and it is also known as 'Mt Eden Crater', 'Mount Eden', 'Mount Eden Volcano', and 'Eden Crater'.
Maungawhau is easily accessible from the centre of Auckland and the summit gives 360 degree views across the city, and as such, approximately 1.2 million people visit the site annually.
Maungawhau reaches an elevation of 196 metres (643 feet) above sea level, making it the tallest volcano in Auckland; and from the car park, it usually takes five to ten minutes to walk to the summit.
'Maungawhau' is a word from the native Maori language meaning 'mountain or hill of of the whau tree'.

It is believed that in ancient times, Maungawhau was created by a group of three cones, with the most southern of the three erupting last and filling up the other two.
As a historical and recreational reserve, Maungawhau is a protected area, and despite being surrounded by a city environment, the area is lush and contains a variety of native vegetation.
The Maungawhau crater is roughly circular with a diameter of 180 metres (591 feet)  and a depth of 50 metres (164 feet).
To protect the area, from 2011 heavy vehicles, including tourist buses, were prohibited from using the road to the summit of Maungawhau, while no automobiles were permitted to use the road from the beginning of 2016, except for service vehicles, and small vehicles carrying people who would have difficulty walking to the top.
Maungawhau has more than 300 known archaeological features, as it is the site of a historic fortified village that housed native people from the area, that was built to gain a strategic advantage over surrounding tribes.
Amazon: