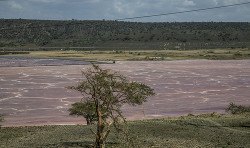 If you ever need to salt your potato, a trip to Lake Magadi may be worth your while.
Lake Magadi is a lake found in the Great Rift Valley of Kenya, Africa, that has a notably high salt content; and 'magadi' means 'soda' in the native Swahili language.
Lake Magadi covers an area greater than 100 square kilometres (39 square miles), and it is roughly 32 kilometres (20 miles) in length and 3.2 kilometres (2 miles) in width, at its furthermost points.
 The salt density of Lake Magadi is quite high, with some salt deposits in the lake reaching 40 metres (131 feet) in thickness.
Lake Magadi is mostly fed by water sources of a high salt content, including various hot springs on the edge of the lake, and some streams, particularly during the wet season; and the lake has no outlet, as the water mostly evaporates.
Due to Lake Magadi's large quantities of salt, one of the only fauna species found in the lake is a cichlid fish, with the scientific name Alcolapia grahami, which is endemic to the edges of the lake where the water temperature is tolerable.

A type of mineral – trona – can be found abundant in Lake Magadi, from which sodium carbonate, or soda ash is extracted; a chemical that is commonly used in dyeing fabric, and creating glass and paper.
Lake Magadi is among the largest sources of trona in the world; and the lake is surrounded by igneous rocks, and sits at at the lowest part of the valley it is found in, at approximately 600 m (1968.5 feet) above sea level.
When Lake Magadi contains water, typically up to a metre deep (3.2 feet), it is a bright pink colour, as a result of the salt content.
Lake Magadi is a popular wading and breeding site for flocks of flamingos, and other birds also gather in the area, making it a favoured bird watching location.
Lake Magadi is under threat from pollution from nearby areas, partly from environmentally hazardous farming methods, and as a result the quality of soda ash mined from the lake has decreased in recent years.
Bibliography:
Kairu P, Lake Magadi Slowly Choking, 2015, Daily Nation,http://www.nation.co.ke/lifestyle/DN2/Lake-Magadi-slowly-choking–/-/957860/2798804/-/g28hplz/-/index.html
Amazon: