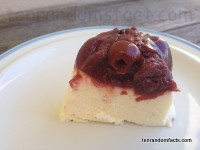 Always savour your last mouthful of cheesecake.
Cheesecakes are generally a type of dessert that are made primarily of a cream cheese mixture, and they often feature multiple layers.
Ancient Greeks are believed to be the first to have designed cheese-based cakes, somewhat similar to modern recipes; and it is said that the Greek Aegimus, a physician in the 5th century BC, wrote the first cheesecake recipe.
The main ingredients of a cheesecake generally include sugar and cream cheese, or other type of creamy cheese like cottage cheese or ricotta, and sometimes eggs or cream are included.
Cheesecakes may have a crust that is often a type of pastry or cookie crumb mixture, and/or a top layer of fruit, cream, syrup, sauce and/or nuts.
An early recipe for a cheesecake was developed in the 1300s, in a Middle-English recipe collection.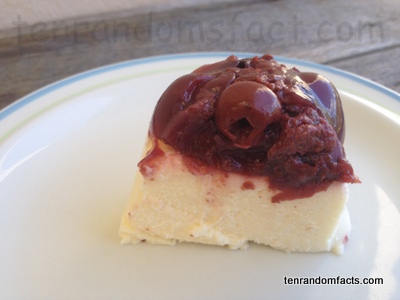 Cheesecakes can be either baked in an oven or chilled in the fridge, depending on the ingredients and recipe, while these vary depending on the country or region; and there is some controversy as to whether the dessert is a custard, pie or tart.
The baked New York cheesecake is one of today's most common versions, and its main ingredient, cream cheese, was invented by the American William Lawrence, in the United State's New York in the 1870s, with the new styled desserts becoming popular soon after.
Cheesecakes are commonly made at home, but they are often available in cafes and restaurants as a dessert option, and they can also be purchased from specialised cheesecake shops, and often from supermarkets in a fresh or frozen form.
The United States national day for cheesecakes is observed on the 30th of July, and it is commonly celebrated by the dessert outlets around the country with discounted products.
Cheesecakes can be a good source of vitamin A, riboflavin, protein, and phosphorus, although they usually contain a significant amount of fat.
Amazon: