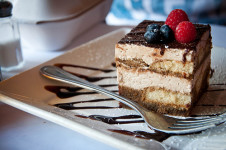 Tiramisu is a mix of quite exquisite flavours.
Tiramisu is a layered dessert, often considered a cake, that is primarily flavoured with coffee.
It is thought that tiramisu originated in Italy's Veneto in Europe, in the 1960s, although other places and dates, as late as the early 80s, have been suggested.
Traditionally, tiramisu consists of ladyfinger or sponge finger biscuits, coffee, mascarpone cheese, cocoa, sugar and egg yolks, however there are numerous variations of the recipe.
Tiramisu can be made in a variety of shapes, and although traditionally circular, the dessert is more commonly made in a rectangular shape due to it being easier because of the shape of the finger biscuits.
'Tiramisu' is an Italian word that can be translated as 'pick me up', often thought to be referring to either the appealing nature, or the energy boosting caffeine and sugar content.

Tiramisu is typically made by soaking finger biscuits in coffee that may be mixed with a liqueur, which are then arranged in a dish so that a mascarpone mixture can be layered on top, with possibly a custard mix on top of that, all of which is repeated one or two times.
The top tiramisu layer is usually a cream or mascarpone layer, which is generally sprinkled with cocoa.
Fruit is not an uncommon substitute for various layers of tiramisu, while other ingredients may also be swapped with alternative options.
In Italy, tiramisu is often reserved for festive or special occasions, and it is now eaten in many countries around the world.
Tiramisu is very high in fat, and is high in protein, vitamin A, riboflavin, phosphorus, manganese and copper, and has many other vitamins and minerals.
Amazon: