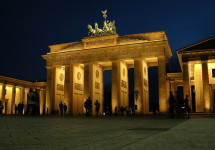 Brandenburg Gate is a symbol and landmark of many things, as decided by history.
Brandenburg Gate is a large gateway that consists of five openings, that spans across the entrance to a public square, that is now called the 'Pariser Platz', in Berlin, Germany not far from what once was the city palace.
'Brandenburg Gate' is known as 'Brandenburger Tor' in the German language and it was historically the beginning of the road from Berlin to Brandenburger.
The Brandenburg Gate is one of the eighteen original gates of the 'Berliner Zoll- und Akzisemauer', or in English – 'Berlin customs and excise wall', which surrounded Berlin, and is the only gate still in place.
The construction of the Brandenburg Gate was authorised by Prussian king, Friedrich Wilhelm II (Frederick William II), built from 1788 to 1791, replacing a simple pre-existing structure, and the new gate was to symbolise peace.
Extensive damage was inflicted upon the Brandenburg Gate as a result of ammunition during World War II, and together in 1956 to 1957, East and West Berlin restored the gate.

The Brandenburg Gate was effectively closed for almost 30 years, after the Berlin Wall that divided East Berlin and West Berlin, was completed in 1961, and it was re-opened in 1989 and later renovated from 2000 to 2002, with private funds.
Originally vehicles travelled through the Brandenburg Gate; however, since 2002 the road has only been open to foot traffic, and as such has been paved with cobblestone.
Brandenburg Gate reaches an approximate height of 26 metres (85 feet) and spreads 65.5 metres (215 feet) in width.
A statue is located on the top of the Brandenburg Gate, known as the Berlin Quadriga, which depicts the goddess of peace or victory in a chariot drawn by four horses, which was placed there in 1793, and was once stolen by Napoléon Bonaparte.
The Brandenburg Gate was designed by Prussian architect Carl Gotthard Langhans, in the Greek revival neoclassical style, and it is decorated with bas-relief, and has twelve columns.
Amazon: