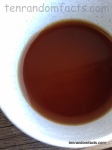 Worcestershire sauce must be the most mysterious condiment out there!
Worcestershire sauce is a condiment in the form of a liquid, made primarily through the process of fermenting.
'Worcestershire sauce' is also known as 'Worcester sauce' and, in Spanish, 'salsa inglesa', meaning 'English sauce'.
Worcestershire sauce is most often used as a flavouring in beef and other meat based dishes, Caesar salad and hamburgers, as well as cocktail beverages.
Worcestershire sauce is typically made of anchovies, garlic, spices, molasses and onion, as well as a mixture of other ingredients that often includes vinegar.
Although its history is uncertain, Worcestershire sauce is said to have been first invented by English pharmacists John Lea and William Perrins, in England's Worcester, in Worcestershire,  Europe, and it was sold commercially by them by the year 1838 under the Lea & Perrins brand, now the most popular brand in the world.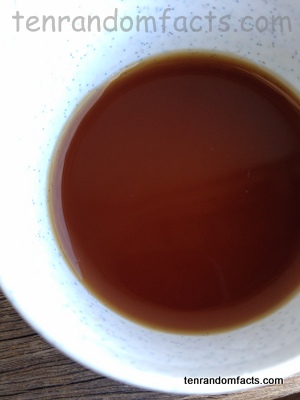 The initial Worcestershire sauce made by Lea and Perrins is said to have been very strong and unpleasant and therefore placed in a cellar, however, years later it was tasted and discovered it was pleasant after fermenting.
Worcestershire sauce is high in sodium, iron, potassium and vitamin C and it contains many other vitamins and minerals.
It is widely accepted that the Lea & Perrins Worcestershire sauce recipe is derived from an Indian condiment, that the Englishmen tried to replicate for an acquaintance who had visited or lived in the country.
Worcestershire sauce is commonly available in supermarkets and is usually sold in bottles, under various brand names.
The list of ingredients, but no method, of the original Worcestershire sauce by Lea & Perrins was first uncovered in 2009 in a rubbish bin, and the document now resides in the Worcester City Art Gallery and Museum.
Amazon: