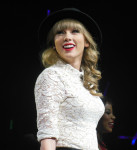 "Just be yourself, there is no one better." – Taylor Swift
American Taylor Swift, is among the most successful and youngest country and pop vocalists, and songwriters that has ever lived.
Taylor Swift was born on 13 December 1989 as 'Taylor Alison Swift', in Pennsylvania's West Reading, in the United States, and was brought up on a farm of Christmas trees.
Sony's RCA Records was the first company to work with Taylor Swift, in 2004 when she was 14 years of age, and was the youngest writer to do so; however, the artist was only there for around a year, leaving to pursue a self-constructed career, and later signed with Big Machine Records.
Taylor Swift released her first album, self-titled, in 2006, which took one to two years to write, record and produce.
Taylor Swift has written songs with themes of romance, fantasy, friends, alienation and her past teenage life, and she uses codes in some of her written lyrics to reveal extra messages.

Taylor Swift endeavours to present a good public image and be a good role model, and she also likes to engage with her most enthusiastic fans by having them selected from audiences to meet with backstage.
Taylor Swift is well known for her philanthropy, and her earnings have reached significant millions since 2009, while in 2014 she earned $64 million.
When Taylor Swift was young, writing poetry was among her hobbies, and as an adult, writing about life is one of her favourite things to do.
Taylor Swift has been the recipient of numerous different awards, and by the end of 2014 had received 7 Grammy Awards as well as 16 American Music Awards, and had sold 27.1 million album copies in the United States.
Five albums, that is one every two years, have been produced by Taylor Swift; Taylor Swift in 2006, Fearless in 2008, Speak Now in 2010, Red in 2012, and 1989 in 2014.
Amazon:  
Taylor Swift