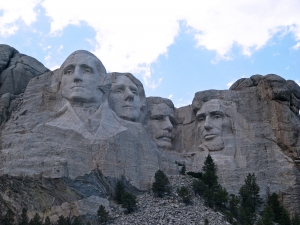 A sculpture in a mountain!
Mount Rushmore is in South Dakota, United States of America, and is controlled by the United States National Park Service.
Mount Rushmore National Memorial is a sculpture carved in the side of the granite mountain, Mount Rushmore.
The Mount Rushmore sculpture depicts four US president heads – George Washington, Thomas Jefferson, Theodore Roosevelt and Abraham Lincoln.
Mount Rushmore National Memorial was carved in 1927-1941 by Gutzon Borglum, a notable sculptor, and a team of 400 workers.
Mount Rushmore's carved heads are 18 meters (60 feet) high and make up the  largest sculpture ever carved.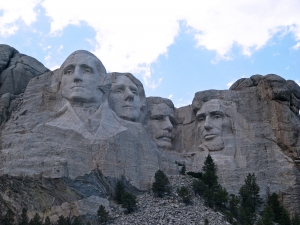 The Mount Rushmore sculptor, Gutzon Borglum, made plaster models that were one twelfth the size of the finished sculpture so that the workers had a guide to follow.
Dynamite was used to carve 90% of the Mount Rushmore heads.
Around 3 million people visit Mount Rushmore every year.
After approximately two year's work on the sculpted Thomas Jefferson, bad cracking was found in the granite, so Jefferson was removed and restarted on the other side of Washington.
Each day during construction, the Mount Rushmore workers had to climb 700 stairs before they could start work.
Bibliography:
Mount Rushmore 19 February 2013, Wikipedia, <http://en.wikipedia.org/wiki/Mount_Rushmore>
Grant, N 1994, People and Places, RD Press, Australia