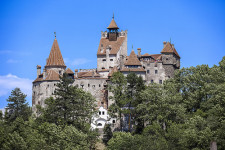 Bran Castle is a secret residence of the vampires.
Bran Castle is a large castle found in central Romania in Europe, along the border of the historic regions of Transylvania and Wallachia.
'Bran Castle' is popularly known as 'Dracula's Castle', especially by tourists, and is also known as 'Bran Fortress'.
It is thought that a wooden castle was built on or near the site of the present-day Bran Castle, built by the Teutonic Knights around 1212 and named Dietrichstein, however it is believed to have been destroyed in 1242.
Bran Castle is situated on a cliff at an elevation of 762 metres (2500 feet), and is surrounded by valleys and hills and is major tourist destination in Romania.
King Louis I of Anjou ordered the original construction of Bran Castle in 1377, which was built by choice by residents from the nearby town of Brașov, at their own expense.

Bran Castle was completed by 1382, in record time, and was built for the purpose of defending Transylvania's border and included a customs station.
Bran Castle was popularised by the renowned novel Dracula, which describes a similar residence to Bran Castle for Count Dracula, although further analysis has revealed there a major differences in the descriptions.
Queen Marie, the last queen consort of Romania, was quite fond of Bran Castle as a residence, and was given the castle in 1920 by the town of Brașov, and later her daughter Princess Ileana inherited it, however in 1948, it was taken by the communists and eventually made into a museum.
In 2015, the owner of Bran Castle was Archduke Dominic of Austria-Tuscany, also known as Dominic von Habsburg and son of Princess Ileana, who acquired the castle in 2006, after the Romanian government gave over the rights of the castle to the traditional owners.
Bran Castle has had various owners and caretakers over the centuries, and has been used by royalty and the forestry, among others, and it has also undergone various renovation and restoration projects.
Morris E, Bran Castle, Romania: In Search of Dracula – and the Buried Heart of a Long-Dead Queen, 2015, Exploring Castles, http://www.exploring-castles.com/bran_castle.html
Amazon: