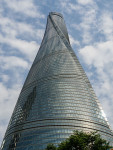 Shanghai Tower is nothing short of spectacular.
Shanghai Tower is a skyscraper of an extreme height, located in China's Shanghai, Asia, in the Pudong district, situated on what was once a golf driving range.
Shanghai Tower reaches a height of 632 metres (2,073 feet), and in 2015 it had the status of being the second tallest tower on earth and the tallest in China and Asia.
The 133 floors of Shanghai Tower, five of which are underground, include a total area of 420,000 square metres (4,520,842 square feet).
The construction of Shanghai Tower commenced in late 2008, and was completed in late 2015, and it was built as the last and tallest of a group of three Chinese skyscrapers situated in Shanghai, which began early development in 1993.
Gensler, an American architect company, in cooperation with Jun Xia, a Chinese architect, were the creators of the design of Shanghai Tower.

Shanghai Tower twists at an incline of 120 degrees, and the exterior is double-layered, which provides a buffer zone to the building, helping to insulate it, and as a result is said to save millions of dollars in energy related costs over a period of time.
The curvature of Shanghai Tower allowed for 25% less steel material to be used in construction than typically required, reducing the cost by millions, and it reduces the impact of wind on the tower by 24%.
A variety of government financing, loans and shareholder investment contributed to the financing of Shanghai Tower, which reached a total cost of approximately 2.4 billion USD.
Shanghai Tower can generate its own energy through wind turbines on the top levels, and it exploits the earth's heat for use in cooling and heating components.
Up to 16,000 individuals can inhabit Shanghai Tower, with more than 25 floors designated specifically as hotel accommodation, while other floors include office space; and there are eight atriums, known as 'sky lobbies', which contain eateries, gardens and shops, that promote community behaviour in the building.
Amazon: