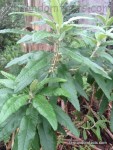 Blanket leaves are literally blanketed in leaves.
Blanket leaves are small trees or large shrubs that are native to parts of Australia's southeast, and are found in the states of Tasmania, New South Wales and Victoria.
The scientific name of a blanket leaf is Bedfordia arborescens and it is from the family Asteraceae, the family of daisies, and it is very similar to some other species in the Bedfordia genus.
Blanket leaf plants generally reach heights between 3 and 5 metres (10 to 16 feet), although they can grow up to 8 metres (26 feet) tall.
'Blanket leaves' are also known as 'blanket bushes', 'tree blanketleaves', 'tree blanketferns', and 'flannel leaves'.
The small flowers that bloom on a blanket leaf plant are coloured yellow and grow in clusters, while the leaves are a green colour on the top side and a white colour on the underside.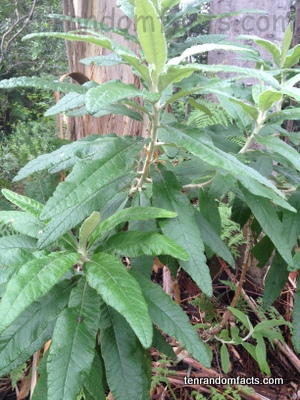 Blanket leaves are found in rainforest and other forest habitats, particularly those in mountainous areas, and in Tasmania they are a vulnerable species due to environmental factors and the small proportion of suitable land available for the plant.
The underneath of blanket leaf leaves are typically covered with white fuzz, made up of numerous white hairs, which also occurs on new branches.
Blanket leaves bloom during the spring months, generally between October and January.
The fruit of a blanket leaf plant is very small, reaching approximately two to three millimetres (0.08 to 0.12 inches) in diameter, and the seeds are dispersed with the wind.
Blanket leaves grow best in partly shady areas, and in moist soil conditions, and they are able to withstand snow and frost.
Bedfordia arborescens—Blanket Leaf, Flannel Leaf, Blanket Bush—ASTERACEAE, 2012, Flora of the Mid North Coast of New South Wales, http://floragreatlakes.info/html/rfspecies/bedfordiaa.html
Amazon: