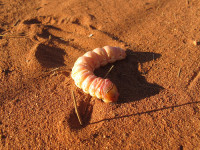 Hooked Stick Grub
Witchetty

grubs are also known as

witchety

grubs or

witjuti

grubs.
The term

witchetty

grub is used for large white larvae of moths that chew through wood and eat roots or sap of certain trees and plants.
The most common type of

witchetty

grub is the larvae of the

Cossid

Moth.
Witchetty grubs are part of the traditional diet of indigenous Australians.

Witchetty

grubs are eaten either raw or cooked and are very high in protein and have a nutty flavour.  They have been said to taste like scrambled eggs, and when cooked they taste like chicken.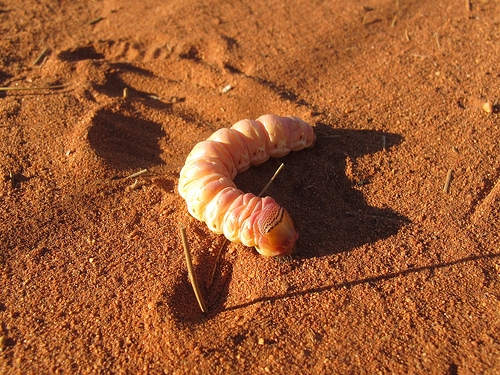 The word '

witchetty

grub' comes from the indigenous Australian language,

Adnyamathanha

, from the words '

wityu

' meaning hooked stick and '

vartus

' meaning grub.
The witchetty bush (acacia kempeanas) is the main food of certain witchetty grubs.
The witchetty grub can grow up to 12 cm (4.7 inches) in size.
Witchetty grubs live in burrows that they create, up to 60 cm (23 inches) underground.
Witchetty grub moths have a wingspan of up to 16cm (6 inches) and don't eat, but instead use stored energy from the grub form.
Bibliography:


Witchetty

Grub
 n.d, Bush Tucker, <http://library.untamedgroup.com/entry/bush-tucker/103/>