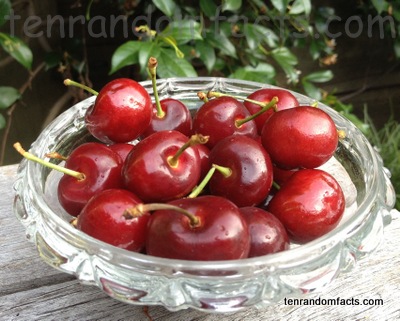 Red as a rose, sweet as love.
Cherries are stone fruit since they have one seed in them, and have an outer flesh.
Cherries are the fruit of certain species of 'Prunus', and most cherries that humans eat come from varieties of the sour cherry (Prunus cerasus), which is mostly used for cooking purposes, or the wild cherry (Prunus avium).
The word 'cherry' comes from the common Greek word, translated into Latin, 'Cerasum'.
The cherry tree cultivars are mainly native to the Northern Hemisphere.
Several caterpillars rely on cherry tree cultivars for food.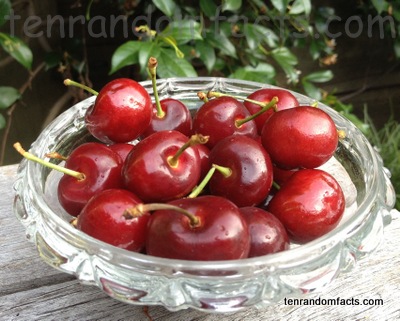 The word 'cherry' refers to the fruit, tree, similar ornamental trees and strangely enough, sometimes almonds.
The cherry tree's prime season for harvest is Summer.
In 2007, cherry trees produced approximately 2 million tonnes of cherries world wide. 40% of this production belonged to Europe and 13% belonged to the United States of America.
Turkey was the top producer in 2009, with 417.7 thousand tonnes, followed by  the United States with 390.7 tonnes.
Cherries have been proven to decrease pain, swelling and tenderness in rats.
Bibliography:
Cherry 28 December 2012, Wikipedia,
<http://en.wikipedia.org/wiki/Cherry>