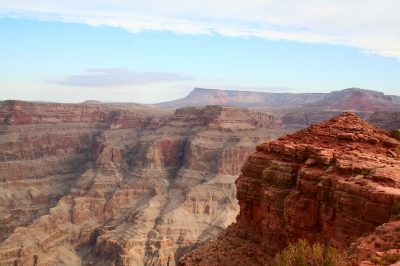 Big, large and rocky!
The Grand Canyon is located in the state of Arizona, in the United States of America and has some of the cleanest air in the US.
The Grand Canyon is one of the natural wonders of the world and has been most notably carved by the flow of the Colorado River.
The Grand Canyon is 466 km (277 miles) in length, up to 1,800 meters (6,000 feet) deep, and in places up to 29 km (18 miles) in width.
The Grand Canyon was first discovered by Europeans in September, 1540.
The former United States president, Theodore Roosevelt, started the Grand Canyon National Park, which protects the wonder.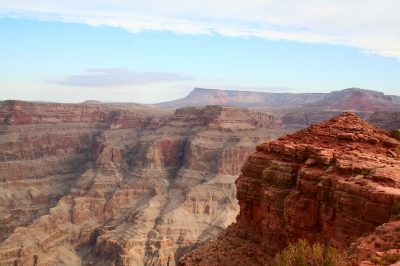 In the periods of 2003-2011, mining in the Grand Canyon was requested due to the large amount of uranium underground.
Temperatures at the Grand Canyon can reach up to 38°C (100°F) and can go as low as -18°C (0°F).
1,737 species of plants and 34 mammals have been spotted or seen at the Grand Canyon.
On average, 5 million visitors visit the Grand Canyon every year.
Since the 1870s, 600 deaths have occurred at the Grand Canyon.  242 of those deaths were results of plane and helicopter crashes.
Bibliography:
Grand Canyon 8 December 2012, Wikipedia, <http://en.wikipedia.org/wiki/Grand_Canyon>