You cannot get jokes more sweet corn-y.
Sweet corn is a maize variety that has a particularly sweet taste in comparison to other varieties of maize, and it is also known as 'pole corn' and 'sugar corn'.
The scientific name of the sweet corn plant is Zea mays saccharata or Zea mays rugosa, and it is from the family Poaceae, the family of true grasses.
Sweet corn has a higher quantity of sugar and less starch than other maize varieties, and it is believed that this is caused by a natural mutation, and the cobs are harvested before they are mature, to ensure maximum sweetness.
A single sweet corn plant produces a range of one to three cobs each, that typically range from 20 to 25 centimetres (8 to 10 inches) in length.
Generally sweet corn hardens and becomes starchy easily, meaning it should be eaten soon after picking and stored only for short periods of time in a cool location.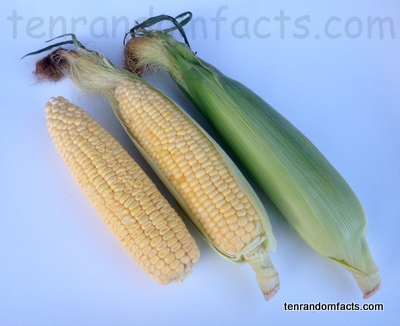 Sweet corn can be steamed, microwaved, baked, boiled and barbecued, and is readily available in supermarkets and can be bought fresh, frozen or canned, and sometimes 'creamed'.
Even though sweet corn is technically a grain, it is often eaten as a vegetable, commonly with peas, as a side to a main meal; with beans in Central and South America; and once the kernels are removed from the cob they are commonly used in salads and main meal dishes.
Sweet corn kernels are typically a yellow or white colour and they have a sweet flavour, and while on the cob, they are typically surrounded with a green leafy husk and strands of hair, known as 'silk'.
Native American tribes were the original growers of sweet corn, and it grew in popularity around the late 1700s, when it became accessible to Europeans.
Sweet corn is very high in fibre, folate, thiamin, magnesium, phosphorus, vitamin C, and contains many other vitamins and minerals.
Amazon: