No, it is not a spider, it's a spider plant.
Spider plants are an evergreen, perennial herb and are generally grown for their long arching foliage.
Spider plants are native to the African tropics and southern Africa.
Spider plants grow from 30 to 60 cm (12 – 24 inches) tall and are often grown in hanging baskets.
The scientific name for spider plant is

chlorophytum

comosum and they belong to the Asparagaceae family

.
The most common spider plant species are variegated and have green leaves with a white stripe in the centre, or dark green leaves with white stripes on the outside.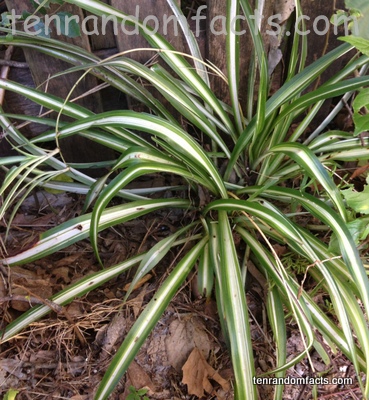 Spider plants can be damaged by fluoride or boron.
Spider plants grow 'babies', called 'plantlets' along runners that grow from the main bush, giving the plant a spidery look.
Spider plants grow best in temperatures that are 18°C – 32°C (65°F – 90°F

) 

but can grow at temperatures as low as 2°C (35°).
Spider plants are great indoor air cleaners, and 15 spider plants would purify the air of an average size house.
Spider plants grow quickly and produce small white flowers.
 Bibliography:
Chlorophytum Comosum, 2013 Wikipedia, <http://en.wikipedia.org/wiki/Chlorophytum_comosum>
VanZile, J n.d. Spider Plants (Chlorophytum) , About.com Houseplants, <http://houseplants.about.com/od/foliageplants/p/SpiderPlant.htm>