Unleash your detective (or criminal!) self with Scotland Yard.
Scotland Yard is a game that involves one team, the detectives, that are to find and capture the criminal (or Mr X), by travelling across a board under a turn limit.
The typical goal in Scotland Yard is for the single player criminal, to evade capture by the team of detectives, consisting of multiple players, who strive to capture the criminal.
Scotland Yard requires the skill of deduction for the detectives, bluffing for the criminal, and tactics for both.
Players of Scotland Yard are required to traverse across the board using marked taxi, subway and bus routes and stations, and specific tickets are used to enable travel through the various transport methods.
Generally each detective in Scotland Yard has 22 tickets available for moving, one used up each turn, while the criminal will have the remainder.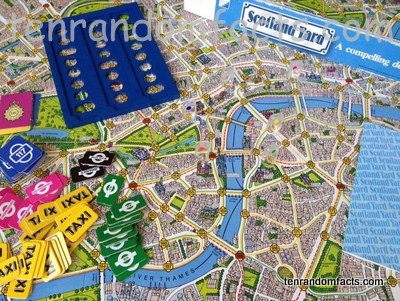 Scotland Yard was first released in 1983 in Europe's Germany, by Ravensburger Games, and was quite successful, receiving the 1983 German game of the year award (Spiel des Jahres).
Scotland Yard spread across Europe and eventually reached the United States by 1985, where it was redistributed by Milton Bradley, sporting minor board differences.
The setting of Scotland Yard is typically London, although boards featuring New York, Japan and Switzerland have been published.
Scotland Yard can become monotonous for the detective team, as actions can become repetitive, frustrating and limited, unlike the criminal, who has a variety of options consistently throughout the game.
Scotland Yard is usually played by three to six players and generally takes up to one hour to play.
Amazon: