Have you seen a float in a parade?
Floats are mobile platforms or vehicles, rigged to move at a slow pace, which are decorated for entertainment, and often advertisement purposes, in parades.
Floats, in this case horse-powered wagons, were being used in the 1300 to 1400s to feature biblical plays.
It is believed that the term 'float' came about due to barges being decorated for the Lord Mayor's Show, an annual event originally held on the River Thames, London, that was being held as early as the 1500s.
The largest float ever was in a 2012 parade, and was 35 metres (116 feet) in length, featuring dogs surfing in a 24 metre (80 feet) sea of water.
Using floats for advertising purposes became popular in the 1930s.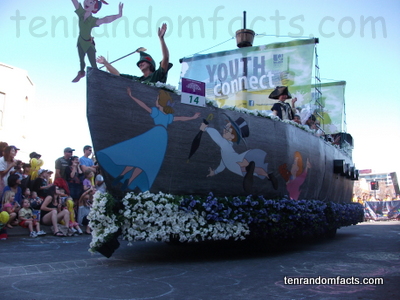 Floats often have fabric draped over the side of the platform, to conceal the mobility devices.
Floats are commonly decorated with floral items or theme-related items, and often have people on the platform.
Floats generally are included in event parades, commonly abiding a theme.
Professional floats can cost a large amount of money to produce, which can be as high as $50,000 to $200,000.
Floats are often built in a large workshop, and depending on the features, can take a year to create.
Bibliography:
Cavette C, Parade Float, 1999, Encylopedia.com, <http://www.encyclopedia.com/doc/1G2-2896800085.html>
Amazon: