Northern jewelled spiders are of a value not defined by money.
Northern jewelled spiders are a species of small arachnid, native to Australia's Queensland.
The scientific name of the northern jewelled spider is Gasteracantha fornicata and it is from the family Araneidae, the family of orb weavers.
In 1775, the northern jewelled spider was described and scientifically classified, being the first Australian spider to be named, by Johan Christian Fabricius, a zoologist from Denmark, from information collected from Cooktown, Australia, by Sir Joseph Banks and crew in 1770.
Northern jewelled spiders have a spiny, striped abdomen, with six spikes visible from the top – two protruding on each side, and two at the back.
The stripes of northern jewelled spiders are coloured maroon, brown or black, and white to yellow.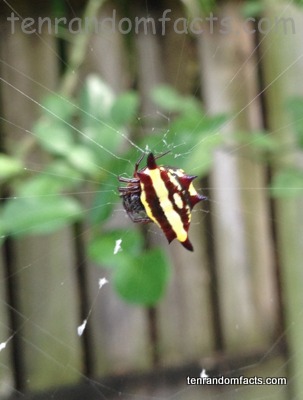 Northern jewelled spiders have a diet that consists of various insects – effectively whatever is caught in the spider's web.
Female northern jewelled spiders can reach a width of 2.5 centimetres (1 inch) and a length of a single centimetre (0.4 inches), while males are significantly smaller and differ to the females in appearance.
Northern jewelled spiders are most often found constructing webs in their rainforest habitats, and the completed webs can have a diameter as large as 2 metres.
The bite of northern jewelled spiders is essentially harmless to humans, primarily due to the spider's small size.
The egg sacs of northern jewelled spiders are of a brilliant green colour, with an appearance of loosely woven spindly silk, and they are typically found on tree trunks and leaves, where they are camouflaged.
Amazon: