Mastermind is the greatest tool to master the mind.
Mastermind is a game that involves guessing a code, and the game is also known as 'Master Mind', while another name for a different brand of the game is 'Secret Code'.
Mastermind is often considered a commercialisation of a similar game named Cows and Bulls, which is playable using paper and pens, and is known to have been played in the 1960s, but possibly as early as the late 1800s.
Two players are typically required to play a game of Mastermind – one devises the code, and the other cracks it over a number of steps, through the skill of deduction.
Mastermind was invented by an expert in the telecommunications field in Israel, Mordechai Meirovitz, in 1970.
Mastermind is played by making a code using supplied coloured pegs, and the opponent must correctly determine the correct position and colour of the pegs.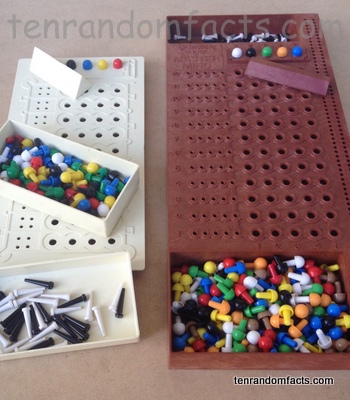 Smaller black and white pegs are typically used to convey the accuracy of each guess – white to signify if a correct colour was used but incorrectly positioned; black if a correct colour was used and is in the correct position; or left blank if none of the code colours were used in the guess.
There is a 1 in 1296 chance of correctly guessing the code in Mastermind on the first attempt, with a four peg code and six available colours.
The average amount of turns taken to break a Mastermind code is four to five, while algorithms have been designed to crack a code in the most efficient process possible.
The original Mastermind featured six colours and a four slot code, while these numbers vary across versions today, and variations have included letter or number pegs, rather than colours.
It is not uncommon for a Mastermind variant to be programmed as a computer program, particularly due to its successful one person participation against a computer.
Amazon: