"It's-a me, Mario!" – Mario from the Mario franchise.
The Mario franchise is the most popular video game franchise ever, and is produced by Nintendo, featuring the main hero, Mario.
The main series from the Mario franchise is Super Mario (from 1985), which involves the player to venture through the setting, 'Mushroom Kingdom'.
There are more than 200 games that are based or derived from the Mario franchise, and together the number of copies sold is over 865 million.
Spin-offs of the Mario franchise include Mario Party (from 1999) and Mario Kart (from 1992), which are some of the longest running series.
The first release in the Mario franchise was Donkey Kong in 1981, designed by Shigeru Miyamoto, involving the player known as 'Jumpman' (later known as Mario) to jump over objects and save 'Lady'.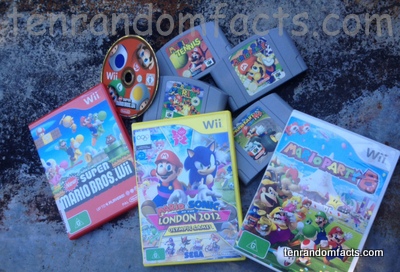 Hudson Soft, another video game publisher, has been responsible for producing some of the Mario franchise games, including Mario Party until 2012.
The Mario franchise has released anime, comics, an unsuccessful film, and manga as well as general items such as shirts or pens.
The Mario franchise is mainly a platform genre, but other games in sport, racing, puzzle, party and role-play have also been published.
The common logo of the Mario franchise features a red 'M', on a white circle, which is in a red square, and is usually featured on the character Mario's hat.
The first 3D game of the Mario franchise was Super Mario 64, featuring a camera that follows the path of Mario, for the Nintendo 64 console.
Bibliography:
Mario Franchise, 2013, Giant Bomb, http://www.giantbomb.com/mario/3025-1/
Mario (Franchise), 2013, Wikipedia, http://en.wikipedia.org/wiki/Mario_(franchise)
Amazon:    
Mario Franchise Games