"We are all of us stars, and we deserve to twinkle." – Marilyn Monroe
Marilyn Monroe was a famous actress, singer and model from America who was born with name Norma Jeane Mortenson.
Marilyn Monroe was born in California's Los Angeles, in the United States, on 1 June, 1926, to Gladys Baker, although it is uncertain who her father was.
As a child, Marilyn Monroe had no permanent home, as her mother had mental health issues, so she lived in various foster homes and an orphanage, although at age 16 she was encouraged to marry James Dougherty, a neighbour friend, in 1942, to avoid being in another care situation.
Marilyn Monroe started her modelling career in 1945, for The Blue Book Modeling Agency, and was quickly signed up with 20th Century Fox, so that in 1946, Monroe performed in her first films, and her first significant role was in 1947 in Dangerous Years.
During her life, Marilyn Monroe was also known as 'Norma Jean Baker', 'Norma Jean DiMaggio', 'Norma Jean Dougherty' and 'Marilyn Monroe Miller' and while she was naturally a brunette, she began dying her hair blonde for work purposes.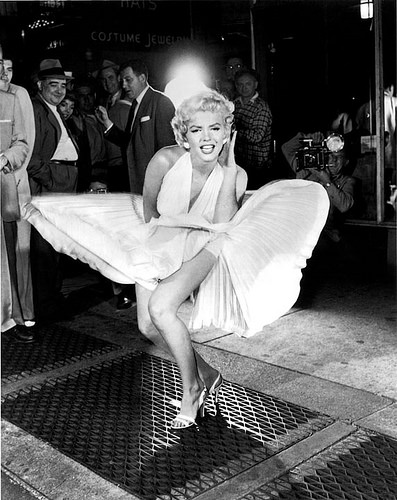 Marilyn Monroe first acted in a more major role in 1948 Ladies of Chorus, for Columbia, and although she performed well, the film was not as successful as hoped and it received negative reviews.
Marilyn Monroe is well known for acting in Don't Bother to Knock (1952), How to Marry a Millionaire (1953), Gentlemen Prefer Blondes (1953), Niagara (1953), The Seven-Year Itch (1955), Some Like it Hot (1959) and The Misfits (1961), all primarily comedy or romance films.
Marilyn Monroe died at 36 years of age, on 5 August 1962, from barbiturate poisoning, said to be a self-induced drug overdose, although much speculation has been made regarding the circumstances.
Marilyn Monroe was awarded, in 1960, the Golden Globe Award for her notable acting in Some Like it Hot (1959), and she also received two Golden Globe Awards for female 'World Film Favourite' in 1953 and 1962.
Marilyn Monroe was married to James Dougherty from 1942 to 1946, Joe DiMaggio whom she married and divorced in 1954, and Arthur Miller from 1956 to 1961, and although she was married three times, she did not have any children.
Amazon: