Jenga – Edge of Your Seat Fun!
Jenga is a game involving the strategic removal of wooden blocks from an erected wooden tower, without toppling the tower, and it is said to be the second best selling game in the world.
The term 'jenga' means 'construct' or 'build' in Swahili, and in the game, a beginning tower is made of 54 blocks placed in groups of three, in layers alternating in direction.
The general play of Jenga is to remove blocks from the mid to lower sections of the erected tower, although taking them from higher up is mostly allowable, and put them on the top, all without the tower toppling.
Leslie Scott, from England, commercialised Jenga, her first game, in 1982, showcasing it in the London Toy Fair in early 1983, however, it was not an instant hit, though in 1986, 400,000 units were ordered at the Canadian Toronto Toy Fair.
Jenga blocks are traditionally made of wood and are manufactured with deliberate irregularities in the blocks to allow the game to function properly.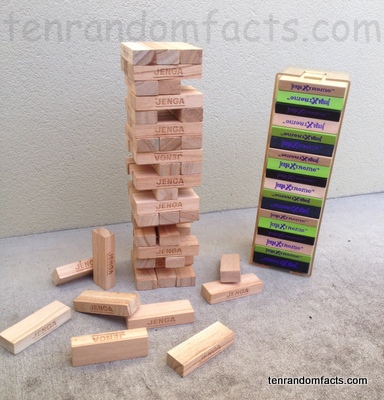 The idea for Jenga grew out of a game played with children's building blocks in the 1970s by Leslie Scott and her family, using blocks of wood from a local sawmill in Ghana, Africa.
The original Jenga blocks have height by width by length dimensions of 1.5 by 2.5 by 7.5 centimetres (0.59 by 0.98 by 2.95 inches), and the game is distributed by Hasbro.
As of 2015, the highest standing tower made from Jenga blocks was built in 1985 by Robert Grebler from the United States and was 40 complete layers in height with a single block remaining until the next layer.
Jenga is very similar to the game of Ta-Ka-Radi, although Ta-Ka-Radi has the primary difference of the blocks being stacked on the narrowest edge, rather than the widest, with large spaces between the blocks.
Various versions of Jenga have been produced including 'Xtreme' and 'Ultimate', while other companies have manufactured their own versions, including cylindrical shaped towers made with wooden blocks, and regular towers with plastic blocks.
Amazon: