Geocaching… a worldwide treasure hunt.
Geocaching is when you navigate to a particular location using a GPS to find a box or container called a geocache, hidden at a particular set of coordinates.
Geocaches are found all over the world and are generally placed in interesting locations by people who love to geocache.
The game of geocaching is free to play and the basic rules of geocaching are:  if you take something out of a geocache, put something in; sign the logbook of the geocache; and log your caching experience at the official Geocaching website.
The word 'geocache' comes from the prefix 'geo-', meaning Earth, and the french word 'cache' meaning hidden location and was first used by Matt Stum on 30th May 2000.
The sport of geocaching was created by Dave Ulmer on May the 3rd, 2000 due to new GPS technology that had become available the day before.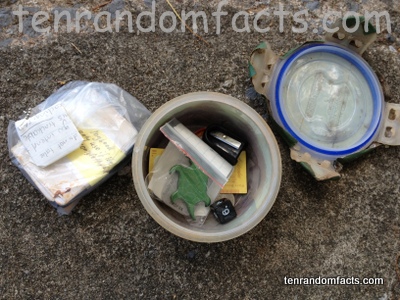 There are over a dozen categories of geocaches including Traditional Caches, Multi-Caches, Mystery Caches, Letterbox Hybrids, Wherigo™ Caches, Event Caches, Mega-Event Caches, CITO Event Caches and EarthCaches™.
There are approximately 2 million current caches worldwide and over 5 million geocachers.
The sizes of geocache containers range from as little as 5ml to more than 20 litres and can take the shape of a lunch box container to a fake rock to a teeny tiny box.  They contain a logbook or log sheet, and sometimes small swaps, like coins, toys and stickers.
Non-collectible items can be found in geocaches. These are called travel bugs and geocoins and are trackable via the geoacaching website, and are moved from cache to cache by geocachers.
Jeremy Irish, an enthusiastic cacher, created the geocaching.com site which became the official website for geocaching on September the 2nd, 2000.
Bibliography:
Geocaching 101 2013, Geocaching, <http://www.geocaching.com/>