The city is not forbidden but entered by many.
The Forbidden City is found in the centre of China's capital city, Beijing, and is now a museum as well as a major tourist destination in China, attracting almost 10 million visitors annually.

The Forbidden City is a 720,000 square meter (7.8 million square feet) rectangular complex, surrounded by a 10 

metre (32 ft) high wall and a 52 metre (71 ft) wide moat

.

The Forbidden city was built to accommodate emperor Zhu Di, and has housed 24 emperors from 1420 until 1912, although the last emperor, Puyi stayed on in the Inner Court until his eviction in 1924.

The Forbidden City is a complex of over 800 buildings, including palaces, temples and halls as well as rivers, parks, lakes and other outdoor beauties.

The Forbidden City is also known as the 'Palace Museum', the 'Imperial Palace' and the 'Forbidden Palace'.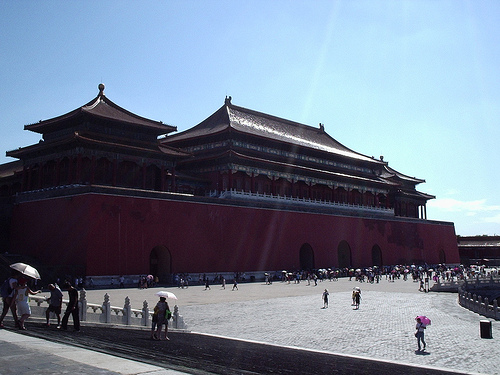 Until 1912 no one was allowed to enter the Forbidden City unless they gained the 

Emperor's

 permission, however, due to the Chinese emperor's abdication in 1912,

 the outer court became open to the public.

It is said that over a million people worked on the Forbidden City from 1400 to 1420 AD, including 100,000 artisans.

The Forbidden City was originally decorated with dragons, stone animals, arches, rails, beams and staircases lined with yellows and reds, and a process of major repair and restoration began in 2005 on the 'city', which was said to take more than 15 years.

The Forbidden City was declared a UNESCO World Heritage Site in 1987 and is sited as the largest group of  historic wooden structures.

The Forbidden City has over 1 million 

artifacts

, and to preserve these during the Japanese invasion of China, they were packed and moved to three different locations in 1933, where they stayed for approximately 12 years

.
Bibliography:
Bonavia D, Peking, 1978, TIME-LIFE International, Amsterdam
Forbidden City, 2013, Wikipedia, < http://en.wikipedia.org/wiki/Forbidden_City>
Williams B, Ancient China, 1996, Heinemann Children's Reference, Great Britain
Amazon: