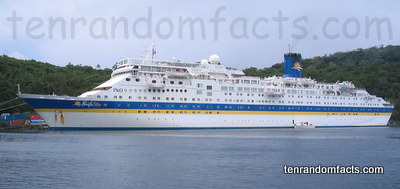 Also known as a cruise liner, not an ocean liner.
Cruise ships are passenger ships that are used for holiday cruises and are a lot like hotels with numerous facilities including pools, restaurants, live entertainment and so on.

Cruise ships cost over 500 million dollars to build.
Although similar, ocean liners and cruise ships have a few differences. These include that ocean liners aren't as comfortable and aren't as suitable for cruising.
Cruise ships generally take passengers from a starting point and do a round trip visiting various ports and finish back at the starting point, unlike ocean liners which normally take people directly from one destination to another.
Currently, the largest cruise ships are the Royal Caribbean International's Oasis of the Seas and Allure of the Seas both of which can carry more than 6000 passengers.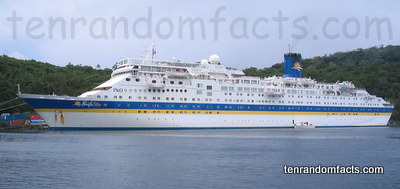 The largest cruise ship, Allure of the Seas, is 361.8 m (1,187 feet) in length, 65 meters (208 feet) in width, and approximately 20 storeys high.
The first cruise was believed to be performed by the Augusta Victoria on the 22nd January 1891, for two months and 241 passengers.
 The first cruise liner built especially as a cruise ship was the Prinzessin Victoria Luise, from Germany which was finished in 1900.
Many cruise ships have guns to protect the ship and passengers from modern day pirates.
Between 2005 and the 2012 Costa Concordia disaster (not inclusive) only 16 fatalities have occurred amongst 100 million people who have cruised during that time.
Bibliography:
Cruise Ship 5 January 2013, Wikipedia, <http://en.wikipedia.org/wiki/Cruise_ship>