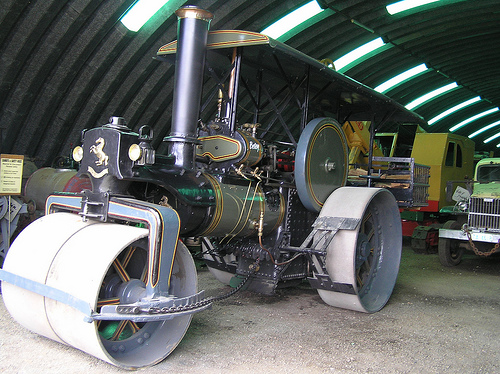 Before diesel.
Steamrollers were rollers that flattened roads.
Steamrollers were powered by steam, although the term steamroller is still applied to the more modern rollers run by diesel.
Steamrollers flattened surfaces due to the mass of the vehicle and the cylindrical like drums, called rolls.
Steamrollers typically had three rolls and were controlled by gears.
Steamrollers are often seen in action at steam shows.
The most famous steamroller manufacturer was the British company, Aveling and Porter.
Britian was the largest steamroller producer and exported many of the machines to other countries.
Part of the M1 motorway, the highway from London to Leeds, England, was built by steamrollers.
Sometimes stemrollers had scraper bars fitted, that removed foreign material from the surface of the roll.
Steamrollers have been popular in movies, music and books, including the Thomas the Tank Engine and Friends series and Bob the Builder episodes.
Bibliography:
Steamroller 27 February 2013 , Wikipedia,  <http://en.wikipedia.org/wiki/Steamroller>