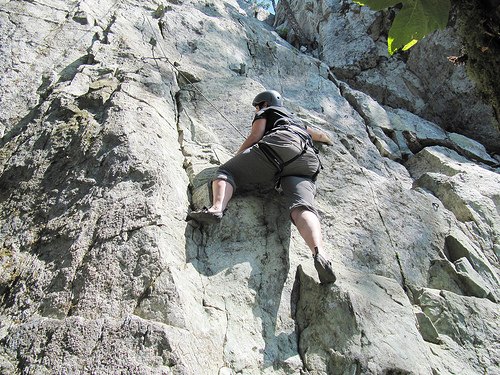 Scale rocks like a lizard.
Rock climbing is when one climbs, up, over, or down large rock faces that can be real or fake, including especially designed indoor rock walls, to challenge one's mind and body.
Rock climbing competitions usually involve trying to find the quickest way to scale a rock wall.
Rock climbing began as a recognised sport in the 1880s in England.
Rock climbing has its origins in mountaineering, and was and still is, a necessary skill for reaching some of the notable summits around the world.
Outdoor rock climbing is usually done when the weather is dry, as it is much more dangerous and difficult to rock climb when it is wet.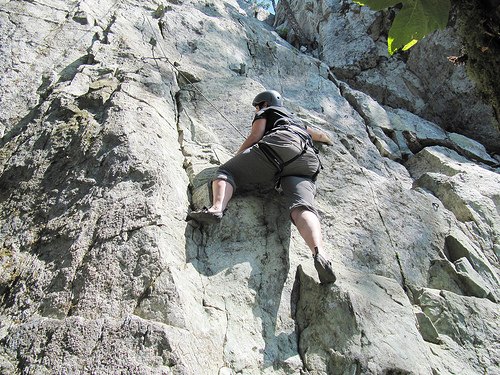 Many rock climbers wear special, tight, rubber soled, flexible shoes to easily grip and feel the rock beneath the climber's feet.
Rock climbing usually requires special equipment, which can include gloves, a helmet, climbing ropes, harnesses, carabiners and belay devices.
Rock climbing can be very dangerous, however, with the right equipment and conditions, most injuries are generally minor and are related to the fingers, shoulders and elbows.

Rock climbers are often employed to fix or maintain wind turbines, as it is usually cheaper and more efficient than using machinery to reach the turbine.

Rock climbers often coat their hands in chalk (magnesium carbonate), to absorb the moisture on their hands, which is said to improve their grip on the rock.
Bibliography:
Rock climbing, 2013, Wikipedia, <http://en.wikipedia.org/wiki/Rock_climbing>