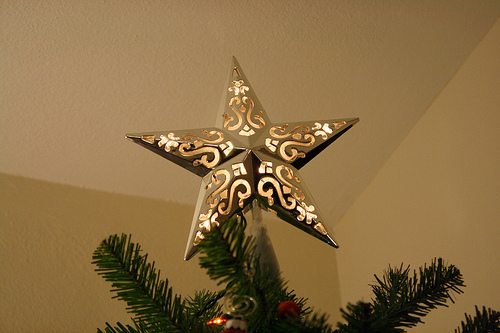 These Christmas tree topper facts will top off your brain.
Christmas tree toppers are Christmas decorations that are typically positioned at the very top of a

Christmas tree

.

Christmas tree toppers are varied in appearance, but are generally shaped as an angel or a star.
Christmas tree toppers are often made of glass, plastic, or metal, but they can also be made of fabric, paper or the like.

Christmas tree toppers are sometimes fitted with

Christmas lights

, typically those made of plastic.

Christmas tree topper stars are symbolic for the Star of

Bethlehem

, while the angel represents Gabriel the Angel, as well as the Heavenly Host, all of which are part of the story of the

Birth of Jesus Christ

.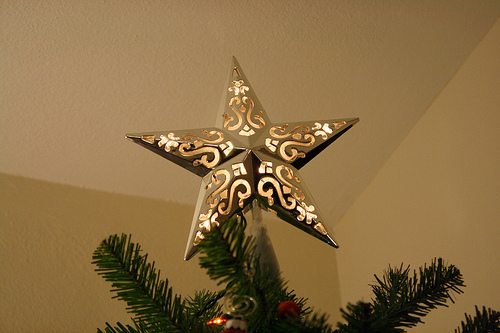 During the later 1800s, the Union Jack was a popular Christmas tree topper, although more recently finials, Santa, ribbons, rosettes, crosses, owls, and even pineapple shaped ornaments can be seen on the top of Christmas trees.
In England, in the mid 1800s, Queen Victoria popularised the German tradition of Christmas tree toppers, and the first known topper of the Queen's was an angel.
'Christmas tree toppers' are also known as 'tree-toppers' and 'treetoppers'.
Besides decorating trees, Christmas tree toppers can be used as centrepieces, as well as house decorations.
Christmas tree toppers can be easily bought from stores during the Christmas season, or they can be handmade, and sometimes they are family heirlooms.
Bibliography:
Tree-topper, 2013, Wikipedia, http://en.wikipedia.org/wiki/Tree-topper
Tree Topper Information, 2009, Christmas Tree Topper.com, http://www.christmastreetopper.com/category/info/
Amazon: