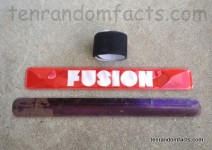 Slap bracelets were once a popular teen fashion statement.
A slap bracelet is a somewhat flat strip, that when slapped on a cylindrical object, curls and wraps around the object.
'Slap bracelets' are also known as 'slap bands' and 'slap wraps', the latter being the original brand name for the invention.
Slap bracelets were invented in the United States, in 1983 by the American Stuart Anders, a high school teacher at the time, after fiddling with a metal strip.
Slap bracelets are made of bistable spring steel (usually stainless), that allows for both curling and straightening out, and the steel used is very similar to that of metal tape measures.
In 1990, Main Street Toys marketed and first released slap bracelets for sale, and they sold at least one million in the first few months, with millions more in the following months.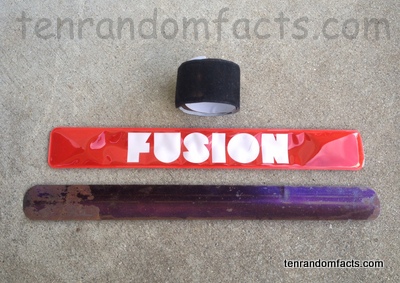 Due to there affordability and fascinating ability, slap bracelets became a huge hit among children and teenagers in the United States in the 1990s, where they were commonly worn around the wrist and ankles, and while it was a relatively short-lived fad, the invention has been used in various forms over the last couple of decades.
Original Slap Wrap slap bracelets were 23 cm (9 inches) in length and approximately 2.5 cm (1 inch) wide, and made of steel that was 0.15 mm (0.006 inch) thick; though cheap imitation versions used thinner steel, which was more likely to break or cut the wearer, the dangers of which first came to light in 1990, soon after they were released.
Slap bracelets are generally covered with a fabric or plastic cover, to both decorate the band and cover the potentially sharp edges of the internal steel, and this allows for an unlimited colour and pattern range.
Slap bracelets were banned in many schools due to the distraction they were in the classroom, while some children were slapping bands on other's wrists, which could cause pain to the receiving person.
Slap bracelets have been used to secure trousers around one's legs while riding a bicycle, while reflective variants have been used by cyclists and pedestrians at night time, for personal safety purposes.
Bibliography:
Ramirez A, Turning Profits Hand Over Wrist, 1990, The New York Times, http://www.nytimes.com/1990/10/27/business/turning-profits-hand-over-wrist.html?pagewanted=all
Reinhard K, Snap! A Slap On The Wrist for Use of Popular Bracelets in School, 1990, The Morning Call, http://articles.mcall.com/1990-11-01/features/2773232_1_slap-bracelets-wraps
Amazon: