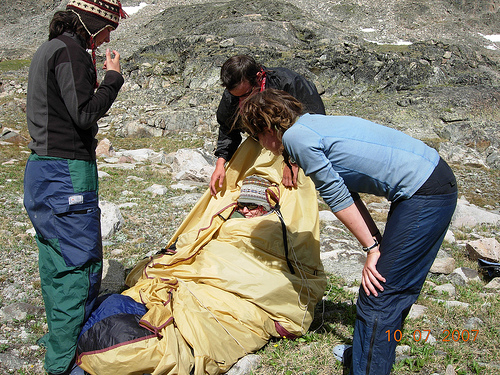 Brrrrr. Hypothermia is cold.
Hypothermia is when the temperature of a human body falls from its usual temperature of around 37°C (98.6°F) to below 35°C (95°F).
People are more susceptible to hypothermia if they are quite young or quite old, sick with permanent medical conditions, if they have consumed alcohol or drugs or if they are unusually tired.
Hypothermia is due to the body losing heat without being able to replace it, and can be caused by exposure to cold water or cold weather below 10°C (50°F), or not eating or drinking enough in cold conditions.
Between 1999 to 2004, an average of 647 people died each year in the United States due to hypothermia.
Hypothermia is often caused from not wearing enough warm clothes in cold conditions, and often leads to frostbite due to the brain keeping the vital organs, including the brain, warm.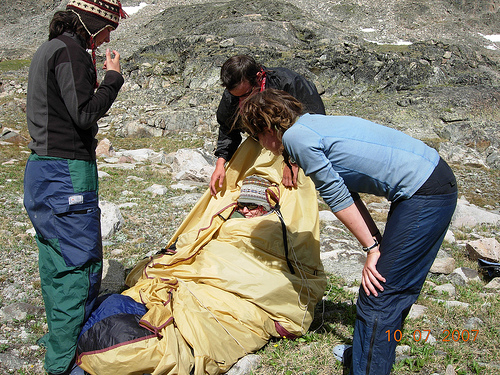 Sleepiness, weakness, pale skin, shivering uncontrollably, confusion, slow breathing, slurred speech and slow heart beating are among the signs of hypothermia.
Victims of hypothermia are often found motionless, since the body cannot look after itself properly, often making people think they are dead.
After being exposed to hypothermia, victims should not be placed in or near very hot substances such as heat lamps or hot water to warm them up, but rather slow indirect heat like the warmth from another person is helpful.
Victims of hypothermia can die if exposed to severe temperatures and have no medical help, and if the person moves around it can cause a heart attack because it will make their body temperature colder.
People who are suffering from hypothermia will sometimes remove their layers of clothing, which makes their situation worse, so this urge, known as 'paradoxical undressing', needs to be resisted.
Bibliography:
Hypothermia, 2010, Medline Plus, < http://www.nlm.nih.gov/medlineplus/ency/article/000038.htm>
Hypothermia, 2013, Better Health Channel, < http://www.betterhealth.vic.gov.au/bhcv2/bhcarticles.nsf/pages/Hypothermia>
Amazon: