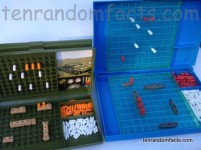 Battleship is a highly intense game that involves… saying coordinates.
Battleship is a two player board or paper game that involves destroying your opponent's various watercrafts using strategic guesswork.
'Battleship' is also known as 'Sea Battle' and 'Battleships', and there are numerous other versions of the game known by other names.
A typical game of Battleship is played by placing 'ships' on a designated grid and then each player proceeds to find and destroy their opponent's watercraft by 'shooting' it, which is done by calling random grid coordinates.
Traditionally a game of Battleship uses five different boats of 5, 4, 3, 3 and 2 squares in length, although watercraft may be different sizes and of different numbers.
A variety of different terms are used to name each different watercraft; the Milton Bradley version referring to each as, from the smallest size, a 'patrol boat', 'submarine', 'destroyer', 'battleship' and 'aircraft carrier'.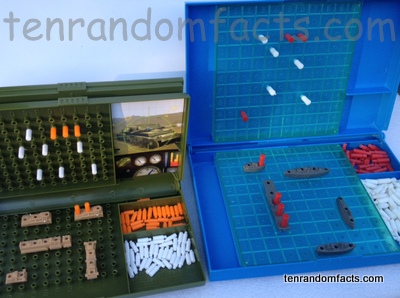 Battleship was originally known as 'Salvo', which is thought to have been first played by Russian officials before the first world war, and a commercial paper and pencil version with the same name was produced in 1931 by the American company Starex Novelty Company.
Originally Battleship was played using sheets of paper containing a grid, and a writing tool, although the game company Milton Bradley invented reusable plastic boards and small plastic ships in 1967 for the game, that has since become more popular than the paper version, and other companies have made similar styled versions.
The commercial Milton Bradley Battleship game introduced the white and red colour coding used to mark a miss or hit respectively, using small pegs that slot into holes in the grid.
Grids sizes vary in each version of the Battleship game, though traditionally it is 10 by 10 squares, labelled with letters on the y-axis and numbers on the x-axis.
The first computerised version of Battleship was designed in 1979, and was one of the first games scripted for a computer.
Salvo Is New Game With a Nautical Air, 1931,  The Milwaukee Journal, 1 July, p. 8. Google Newspapers
Amazon: