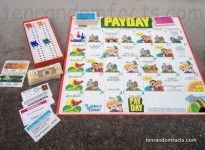 Where does all the money go?" – Pay Day
Pay Day is a two to six player board game, depending on the version, that involves earning (or losing) money by moving across a board mimicking a monthly calendar.
The typical aim of Pay Day is to have the most money and savings in possession by the end of the game, by earning interest and receiving monthly pay, and avoiding mailed bills.
Although luck-based in movement, Pay Day requires particular strategic use of money and other finances to be successful.
'Pay Day' is also known as 'PAY DAY' and 'Payday'; and has been produced in a number of different languages including Italian, French and Dutch.
Pay Day was designed by the American game designer Paul Gruen, and released in 1975, and it was the designer's biggest hit.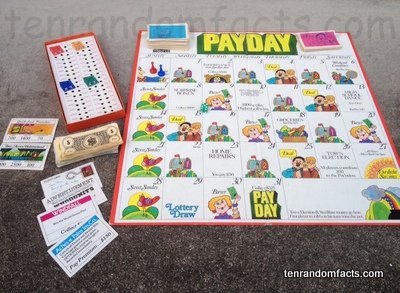 Pay Day was first produced by Parker Brothers, which later became Hasbro's property, and is now produced by Winning Moves.
There are  number of editions of Pay Day which include the original 1970s one; the 1990s edition; the 2000s 'Big' version, which has a customisable game board with interchangeable day tiles; and a 2011 modernised version of the original known as the 'Classic Edition'.
Each edition of Pay Day has had various changes, including board design and layout, different mail and deal card options, and a change of activities on the calendar.
The original version of Pay Day featured a savings account, however this feature was removed in the 1990s game.
Pay Day was very favoured when it was first released; competing against the sales of Monopoly, although it has not remained as popular.