Have a stripey time!
The candy cane is a hard candy and is traditionally white with red stripes and flavoured peppermint.
The first candy canes were made in 1670, in Germany, requested by a choirmaster who wanted to quiet down the children.
The candy cane is designed to remind us of the meaning of Christmas and as such was made as a symbol.
The cane shape of the candy cane was to remind people of 'J' for Jesus, the shepherds who visited baby Jesus, and to represent the biblical view that Jesus is a shepherd of his followers.
The first public candy cane recipe was published in 1844 in the recipe book called The Complete Confectioner, Pastry-cook, and Baker, by Eleanor Parkinson.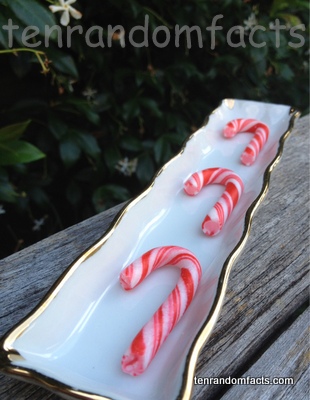 The candy cane was originally pure white and got its stripes in the early 20th century.
The candy cane is hard, which is said to represent the Christian view of the solid foundation of the church.
The peppermint flavour of the typical candy cane is similar to hyssop which was used for offering and purification in the Bible's Old Testament times.
The red stripes represent the biblical view of God's love and the shed blood of Jesus.
Candy canes come in numerous sizes and variations, including different flavours and colours, which includes green and white stripes and rainbow colours.
Bibliography:
Candy Cane 12 November 2012, Wikipedia, <http://en.wikipedia.org/wiki/Candy_cane>
Goldstein, L n.d., The History of the Candy Cane, Noel Noel Noel, <http://www.noelnoelnoel.com/trad/candycane.html>