Airports are the terminals of activity that enable travel to far-off places.
Airports are a construction that provides assistance in the flying, taking off and landing of aircraft, as well as the storage, service, repair and maintenance of aircraft.
Airports usually consist of a type of runway for aircraft to land on, and often have hangars, terminals and control towers for further functionality.
When an airport has large amounts of traffic they will generally have at least one control tower, which is used to monitor aircraft arrivals and departures, dangers due to weather conditions and other factors, and to ensure there are no aircraft collisions.
It is generally considered that the world's oldest airport still in use is the College Park Airport of the United State's Maryland built in 1909, while one of the earliest commercial facilities still in use is Sydney Airport in Australia which officially opened in early 1920.
Airport runways vary depending on the facility size, with smaller ones generally having grass, gravel or dirt based runways of under 1 kilometre (0.6 miles) in length, while larger runways are made of concrete or asphalt and reach lengths of 2 to 5 kilometres (1.2 to 3.1 miles).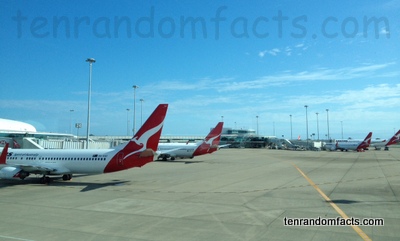 Despite the majority of airports being of smaller size, most are owned by a government organisation, rather than by business corporations or an individual.
The first airports were, on the most part, reserved for military use until after World War I; many of which were later used for commercial purposes.
Each airport has its own letter code, known as an International Air Transport Association (IATA) code, and generally also an International Civil Aviation Organization (ICAO) code, and the facilities usually have an official name, and sometimes a common name, which may be more well known than its formal title.
In 2013, there were 41,821 airports in the world, and almost a third of those were located in the United States, while Brazil had the second biggest number of facilities with almost ten percent of the world's total.
Airports are generally split into two sections, landside – which is open to the public and includes roads and transport options, and airside – which has restricted access and includes airplanes, runways, hangars and so on.
Amazon: